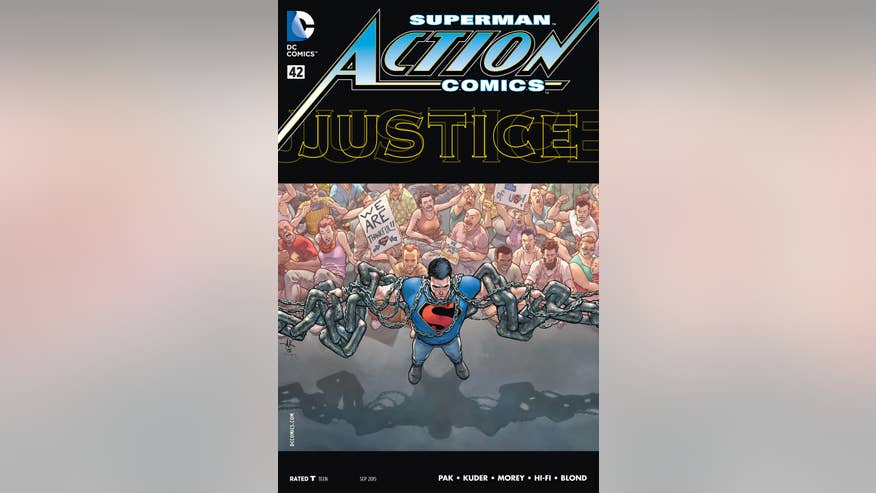 Superman has changed recently, and that should be a good thing. Credit: DC Comics via Fox.
By
+Tim Beyers
Back with another curated post. This time, we tackle a story published by Fox over the weekend. Police in New Jersey are apparently upset that the latest issue of Action Comics has Superman punching a cop:
Patrick Colligan, president of the NJ State Policemen's Benevolent Association, told FOX411 the comic is disgraceful.

"They want to sell comics," he said. "Unfortunately it's at the expense of some very great cops out there every day protecting the public." ...

Colligan ... argued comic books should go back to the basics.

"Comic books are taking on social issues lately and maybe they should get back to taking on superheroes and making people laugh," he said.

Representatives for writers Greg Pak and Aaron Kuder did not return a request for comment.
My analysis
: First, Aaron Kuder is an artist. Let's get that right, OK? Second, you'll get nowhere making comics that are so vanilla they offend no one. If you're here, you're either a fan or a creative entrepreneur with distinct tastes. Some work you'll love. Other work you'll hate. That's perfectly fine. In fact, it's preferable. As a creator, you should only be interested in serving
the audience that's interested in your take
on the characters in your book. Everything else is noise.
Key links:
Want more analysis like this?
Add us to your pull list
to get curated coverage of the industry and two new weekly video issues: business tips for independent creators on Mondays and news analysis on Wednesdays.
The Full Bleed is a founding member of The Geek Initiative, a collection of blogs teaming up like Voltron to bring you the best news, reviews, and analysis of genre entertainment. Click the banner on the right to learn more.